CSTI Academy
CSTI Sustainability Experts for the European project: Island Sustainable Tourism Action through Resilient SMEs (I-STARS) of the Cyprus Chamber of Commerce and Industry.
Philippos Drousiotis (Executive Chairman)
Philippos Drousiotis (Executive Chairman) has a long career in Tourism specializing in Sustainable & Special Interests Tourism. He has worked as a GM in various hotels & as an Area Manager for Cyprotels Hotels & Resorts & has served as their Business Development Manager in Cyprus & Greece. He is a Part-time Lecturer in the Subjects of 'Sustainable Tourism' & 'Environmental Management for Tourism & Hospitality' at the University of Nicosia. He was on the Board of Directors of the Cyprus Hotel Managers Association & has a wide network in the Tourism Industry in Cyprus. He is the Chairman and Co-founder of CSTI. He has played a vital role in all the projects of CSTI in close cooperation with all the stakeholders of the tourism industry including the Ministries of Tourism, Education & Environment. He has a BA in Econ, Math & Business. He has an MSc in Applied Math & an MBA from the University of Iowa, USA. He has been a guest speaker at conferences in Cyprus & abroad on "Sustainable Tourism", "Tourism & Climate Change" & "Special Interests Tourism". He provided consultancy services on Sustainable Development & Special Interests Tourism in Cape Verde through the U.S. Millennium Cooperation. He has given lectures to students from Cyprus & abroad & has written articles and papers on subjects on Special Interests & Sustainable Tourism. He is a Certified Professional Trainer by the Human Resources Development Authority of Cyprus (HRDA – ΑνΑΔ) (Credential Certificate # E001519 issued 07SEP2017 with no expiration). He has done in-house training in hotels on "Sustainable Practices in the Hotel & Tourism Industry" and has also done 2 vital trainings on "Waste Management in Restaurants" both subsidized by the HRDA – ΑνΑΔ.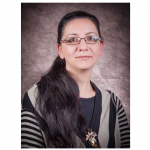 Yianna Orphanidou (Board Member)
Yianna Orphanidou (Board Member) is an experienced educator and researcher in the field of tourism, hospitality and sustainability. She has been teaching since 1999 in various private and public institutions both in Cyprus and abroad. Her educational background includes an HND in Hotel Management with a specialization in Food and Beverage from HHIC, a BA (HONS) in Hospitality Management, and an MSc in Hospitality and Tourism Education from Surrey University in the UK. She is currently pursuing a PhD at the University of Nicosia.
With a focus on tourism, hospitality, and sustainability, Yianna has authored numerous reviewed papers in academic journals, showcasing her expertise and research contributions. She is recognized as an accredited trainer by the Human Resource Department Authority of Cyprus, reflecting her practical and academic proficiency in the fields of Tourism / Hospitality Sustainability and Management.
Yianna has a wealth of experience working on projects and consulting for businesses locally and internationally. She has successfully coordinated and participated in the technical and research teams of over 20 funded European, national, and international projects. Her involvement in these initiatives demonstrates her commitment to advancing knowledge and making tangible contributions to the industry.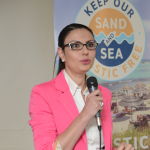 Panagiota Koutsofta (Project Manager)
Panagiota Koutsofta (Project Manager) is working with the Cyprus Sustainable Tourism Initiative (CSTI) as the Project Manager of the 'Keep our Sand & Sea Plastic Free' Project, which aims to bring together tourists, tourism businesses and residents to cut consumption of single-use plastic in coastal regions so that less plastic ends up in the sea reducing plastic pollution. She has a BSc in Environmental Science, an MSc in Biodiversity & Conservation & an MSc in Education for Environment & Sustainable Development.
She has many years of experience as a project manager with more than 13 years of experience in communication and sustainable education. She organizes information and awareness campaigns related to the environment and sustainable development and for the last five years she is dealing with the 'hot topic' of plastic pollution in Cyprus and the Mediterranean. She also has a long experience in organizing effective training programmes for different stakeholders and her expertise is to run educational environmental programs especially for kids.
She has a comprehensive understanding of the need to move towards a Sustainable Society in all aspects of our lives, and raising awareness in the tourism industry is of utmost importance in our move towards sustainability.
Recently, she received the Michalis Frederickou Award: "The Sustainable Development Goals" Action Award for her actions towards the achievement of the UN Sustainable Development Goals.