Keep our Sand and Sea Plastic Free, Destination Zero Plastic Waste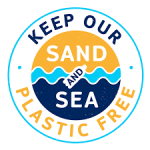 We are happy to share that the 'Keep our Sand and Sea Plastic Free, Destination Zero Plastic Waste' project is now in Phase II and will be continued for a further three years 01JUN22-31MAY25 – Thanks to a Very Successful Phase I! The project is an initiative of TUI Care Foundation and Phase II is delivered in partnership with the Cyprus Sustainable Tourism Initiative (CSTI).
Read more about achievements so far
This initiative is bringing together tourists, tourism businesses and residents to cut consumption of single-use plastic in coastal regions so that less plastic ends up in the sea reducing plastic pollution.
We hope you will join us on this 'Plastic Free' journey & sign up here.
Exciting Concepts that have evolved through the project are the 'Plastic Free Beach' and our Newest Addition is the 'Beachfluencer'. We are very proud of these concepts & hope you will press the links to learn more and join forces with us.
Why? The tourism industry is engaging with the issue of plastic pollution, which is a particular threat to ocean flora and fauna. Plastics make up 95% of sea and beach waste across the Mediterranean, and the Mediterranean Sea has one of the highest levels of plastic pollution in the world, exacerbated by water circulation patterns.
Cyprus beaches are an important resource for both tourism and local wildlife. However, 80% of rubbish collected on Cyprus beaches is plastic waste.
Our approach. We will work with the tourism sector to reduce demand and consumption of single-use plastics – such as plastic straws, cups, cutlery and hotel toiletries. The project will raise awareness of the issue with residents, school children and tourists to reduce demand, and work with tourism businesses to change procurement practices. We will also collaborate with regional authorities to embed longer-lasting change.
The 'Keep our Sand and Sea Plastic Free' project Phase I – an initiative of TUI Care Foundation delivered by the Travel Foundation in partnership with CSTI was designed to run for 3 years in Ayia Napa, Protaras and the wider Famagusta region of Cyprus from 2019 to 2022. It focused on reducing the amount of single-use plastic waste generated and discarded in the resorts, as well as promoting recycling.
Expected Outcomes:

Increased awareness of the problem of single-use plastic among 80% of residents and tourists.

Resorts well on their way to becoming plastic-free
70% reduction in consumption of targeted single-use plastic by tourism businesses.
For more information and sign up visit: https://sandseaplasticfree.org/
FB page: https://www.facebook.com/SandSeaPlasticFree/