Cyprus Breakfast
The Cyprus Breakfast project supports using delicious local products. The Cyprus Breakfast logo is therefore a signature of high quality and sustainability. Learn more in the Flyer
CSTI is Very Proud to be a part of the Cyprus Breakfast Project since its beginning as it was developed under the Cyprus Destination Partnership (CDP) – a fruitful 5-year Partnership Agreement between the Travel Foundation, CTO (now the Deputy Ministry of Tourism) & CSTI.
We are Very Happy that the project is ongoing & that it has received a well-deserved facelift and we encourage you to visit the new upgraded Cyprus Breakfast website.
Elina Christofidou of the Deputy Ministry of Tourism has the overall responsibility for the project & she can be reached at echristofidou@visitcyprus.com
The Deputy Ministry of Tourism has in turn awarded CSTI the 2022 Cyprus Breakfast Audits which we are performing with Great Pride. We also encourage more to join – let's give all our visitors a taste of the Real Cyprus!
Learn more: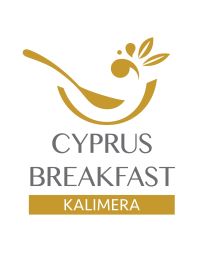 Project Manual-English Project Manual-Greek
Application Form-English Application Form-Greek
Please feel free to contact our Cyprus Breakfast Coordinators as follows:
for Larnaca & Famagusta at pmgr@csti-cyprus.org
for Limassol & Paphos at coordinator@csti-cyprus.org
for Nicosia at info@csti-cyprus.org
The "Cyprus Breakfast, Kalimera" is a project supported by the Deputy Ministry of Tourism, the Cyprus Sustainable Tourism Initiative (CSTI) and the Travel Foundation of the UK.
---
Cyprus Breakfast Workshop # 1 Hadjigiorkis Flourmill Museum, Frenaros
Wednesday 27.4.2022
Cyprus Breakfast Workshop # 2 The Golden Bay Beach Hotel, Larnaca
Saturday 30.4.2022
The presentation of the continuation of the "Cyprus Breakfast" 30th of April 2015, Limassol
---
---
Omelet with halloumi and hiromeri
Traditional Cypriot coffee
Arkatena topped with tomatoes, kefalotyri and capers
Green "tsakistes" olives
Tahini and carob syrup bread spread
Cookies with carob syrup
Unsalted anari cheese
Hallumi pie and olive pie