Greening Cyprus Beaches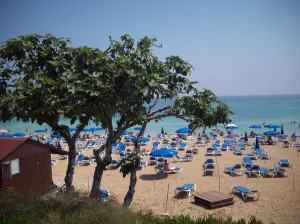 In 2010, the Cyprus Tourism Organisation (CTO), Cyprus Sustainable Tourism Initiative (CSTI) and UK sustainable tourism charity, the Travel Foundation, entered into a partnership agreement to establish a programme of initiatives to support Cyprus in becoming a leader in sustainable tourism – tourism which benefits destination environments and communities.
One of these initiatives looks at the 'greening' of Cyprus beaches. Nissi Beach (Agia Napa) and Fig Tree Bay (Protaras) have been selected for a pilot study, taking place throughout 2012, to showcase what a 'green' beach could look like.
With an understanding of the draw this beautiful environment has for guests, stakeholders are keen to protect and enhance the beach experience and, as Greening Cyprus Beaches project sponsors, have already implemented many of the recommended initiatives.
«Πράσινες» Κυπριακές Παραλίες
Το παράκτιο περιβάλλον στην Κύπρος είναι γενικά καλής ποιότητας, αλλά οι ολοένα αυξανόμενες τουριστικές πιέσεις και η ταχεία οικονομική ανάπτυξη  έχουν υποβαθμίσει το περιβάλλον, απειλώντας το ίδιο το μέλλον του τουρισμού στο νησί.
Το 2010 ο Κυπριακός Οργανισμός Τουρισμού, το Travel Foundation UK και ο Κυπριακός Σύνδεσμος Αειφόρου Τουρισμού, σε μια προσπάθεια όπως καταστεί η Κύπρος πρωτοπόρος στη βιώσιμη τουριστική ανάπτυξη υπέγραψαν συνεταιρισμό.
Στα πλαίσια της πενταετούς συνεργασίας τους για την Αειφόρο Ανάπτυξη του Κυπριακού Τουρισμού, θέσπισαν και το πρόγραμμα «Πράσινες» Κυπριακές Παραλίες. Μετά την πραγματοποίηση μελέτης το 2011, προσλήφθηκε διαχειριστής του έργου αναλαμβάνοντας την επίβλεψη του καθώς και την εφαρμογή των «πράσινων» πρωτοβουλιών σε δύο παραλίες (Nissi Beach, Αγία Νάπα και Fig Tree Bay, Πρωταράς) που επιλεχτήκαν πιλοτικά για το έτος 2012.
Ανάμεσα στις δράσεις του προγράμματος περιλαμβάνονται η καθαριότητα της παραλίας και η διατήρηση της ποιότητας του νερού με στόχο την δημιουργία μιας πρότυπης παραλίας. Με την βελτίωση της ελκυστικότητας της παραλίας,  οι τοπικές κοινότητες και η τουριστική βιομηχανία στις περιοχές αυτές θα είναι σε μια πιο πλεονεκτική θέση να ανταποκριθεί στις απαιτήσεις των επισκεπτών και να μετατρέψει τις παραλίες σε δημοφιλής αειφόρο προορισμό.