Cyprus Village Routes
Background to the project
The development of the tourism industry in Cyprus has meant that many young people have moved away from rural villages to work on the coasts. This exodus has had a major impact on the rural economy and has left behind abandoned villages, unframed land, deserted buildings and elderly populations. These developments have defined a need to regenerate the rural economy and bring back life to the abandoned villages and perhaps even some of the young people.
In 2002 the Travel Foundation and leading tour operators First Choice, Thomas Cook, Thomson/TUI UK, My Travel and Sunvil, with the support of the UK government, created the 'Discover the Real Cyprus' excursion. The initiative resulted in the development of the village excursion 'Support Abandoned Villages and Their Environment' (SAVE). It was soon learned that this excursion could only operate in shoulder seasons due to weather restrictions. This lesson, together with the fact that many British holidaymakers to Cyprus are repeat visitors and some 26% hire cars during their stay, supported a change of direction and the idea to develop a series of 6 self-drive Village Routes.
The success of the SAVE project led to the establishment of the Cyprus Sustainable Tourism Initiative (CSTI) that today continues the development of the village routes for car rental tourists wanting to explore the real Cyprus. CSTI used the same criteria as the SAVE excursions and has developed 6 new self drive routes, and promotes them under the slogan 'Discover the Real Cyprus – A Self Drive Tour to Create Your Own Adventure'.
Scanned copies of Village Routes:
Village Route 1 Village Route 2 Village Route 3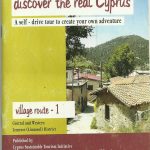 Village Route 4 Village Route 5 Village Route 6
FB page: https://www.facebook.com/Cyprus-Village-Routes-130262933743125/